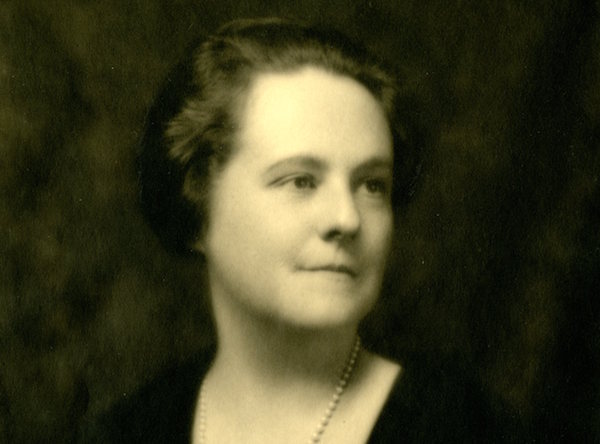 In 1963, J. Olin Oliphant, professor of history at Bucknell and the first archivist of the University, referred to Ellen Clarke Bertrand as, "the greatest contributor to Bucknell in all its history." Mrs. Bertrand's charitable gifts are forever honored by all Bucknellians who have ever studied, discovered, or learned, within the walls of the beautiful library that bears her name.
Born on September 11, 1892, Ellen was the daughter of Samuel J. Clarke and Agnes Robertson Clarke. A woman of considerable wealth, she attended the Gardiner School in New York City. In March of 1929, she married Herbert Bertrand, and together they owned and operated Ellenbert Farm Kennels, which raised and trained Dachshunds. Mrs. Bertrand kept a small social circle, of which Joseph D. Dent, a 1920 Bucknell alumnus, was part. Mr. Dent became Mrs. Bertrand's financial advisor and connection to Bucknell University.
In 1940, Mr. Dent told President Marts of Bucknell about his friend Herbert Bertrand, whom, much like his wife, was a man of considerable wealth. The University extended the invitation to Mr. Bertrand to join the Bucknell Board of Trustees. He took the offer under consideration, but soon became ill and passed away on January 16th, 1942. Mrs. Bertrand never forgot the generous offer made to her husband. When she heard of the University's need for funds to construct a library, she reached out to Mr. Dent about making a donation. Ellen's only requests were that, if she were to make the donation, the building would be named after her and the main reading room would be dedicated to her late husband. When this was approved, Mrs. Bertrand made a substantial donation of $200,000 in 1946 towards the building of the library. When Horace Hildreth became the University president in 1949, he increased the construction fund to $700,000. One year later, this new sum was augmented by another $100,000 donation from Mrs. Bertrand.
The Ellen Clarke Bertrand Library opened for service in May of 1951. On June 9th, a ceremony was held to dedicate the library to Mrs. Bertrand, in which she was the guest of honor. In December of that same year, she became a member of the Bucknell Board of Trustees, serving until her passing on July 12, 1960 at the age of 67. Throughout her life, Mrs. Bertrand continually made contributions to Bucknell, creating two scholarship funds and donating tapestries and etchings to be hung around the library. Her generosity culminated in her main contribution, in which she left Bucknell University an estimated $4 million in her will. Her total contributions amounted to nearly $7 million, of which more than $6 million was earmarked for the library. Mrs. Bertrand's kind heart and philanthropic spirit will forever be remembered and honored by all Bucknellians who make use of the beautiful library building which serves as the academic heart of the University.